Keep Up with Collective Efforts
Take a look at our office events, birthdays, and outings!
September 2019 - Coreen Casadei of Collective Efforts organized and volunteered at the SPEO / ESWP display last weekend for ALCOSAN's 2019 Open House, Allegheny County's largest watershed and environmental festival.
August 2019 - Collective Efforts recently partnered with Healthy Ride - Pittsburgh to analyze the environmental benefits of bike sharing , which was funded by an educational grant from Allegheny County. Healthy Ride used this information to educate the public about air quality concerns in Pittsburgh, focusing on how individuals can help improve air quality in the Pittsburgh area. Even a short commute of 5 miles to work each day can quickly add up to a savings of more than 100-gallons of gas!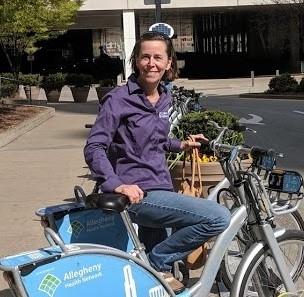 July 2019 - The winners of our Collective Efforts Fourth of July picnic games - 'Best Dressed' & 'Cherry Pit Spitting' with picnic 'MC' Ellen. Have a fun and safe Fourth of July!
April 2019 - Collective Efforts' Tammi and Cindy met with Rich Fitzgerald at the Society of Women Environmental Professionals most recent Three Rivers Chapter event.
March 2019 - Collective Efforts celebrated pi day with fourteen pies and a bake off! Tammi Halapin brought home the price for best sweet pie and Sue English won for best savory pie. But, everyone who got to try these delicious pies was a winner, as well.